Disclosure: Adventure Land is reader-supported, so posts may contain affiliate links. When you click on affiliate links on our site, we may earn a small commission, at zero cost to you. If you enjoyed our content and want to pay it forward (even if you don't intend to buy anything) please click on any of our product links! Happy adventures!
Over the years, there has been a lot of progress in battery technology. One of the newer kinds is 18650, which are rechargeable lithium-ion batteries.
It gets its name from its dimensions which are 18mm by 65mm, and they are commonly used in flashlights. There is a wide selection of 18650 batteries in the market, so it's important to have some basic knowledge about these power cells.
We hope this article guides you in finding the best 18650 battery for flashlights.​
Top 5 Best 18650 Batteries For Flashlights
1. Orbtronic 3500 mAh 18650 Battery for High Power Flashlights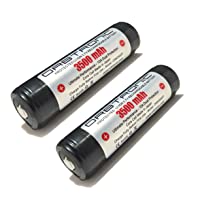 Unlike any other protected batteries, the Orbtronic batteries will give you high power, which is higher than 4 Amps. Also, it will even let you use a high power flashlight hassle and distraction-free. In fact, it can power up Nitecore, Olight, Thrunite, etc. effortlessly.
It has a short circuit protection designed by Seiko, which is from Japan. That alone will tell you that this is heavy-duty and durable. The batteries can sustain 500 cycles, meaning they can last for up to 5 years. So, this is for someone who is looking for batteries with extended storage life. Also, the Orbtronic batteries are among the largest capacity found on US market.
Then, it is very safe to use. The batteries have Li-ion protection that will make them automatically disconnect from the power in case of short circuit. It can also avoid the high current, over charge, over voltage, extreme temperature, and over discharge.
The cell of the battery is from Panasonic with a capacity of 3.4 AH. The charging voltage is reliable with 4.2 V and with an energy of 12.2 Wh. These cells are some of the most portable ones out there with only 46 grams of weight. The top button (positive) comes with Nickel. On the other hand, the negative button has Copper, which is perfect for what every user is looking for in batteries: durability and conductivity.
Pros​
These batteries are durable and easy to use.
Plus, they can sustain high power flashlights without any hassle​.
The Orbtronic batteries can also last longer than any other batteries.
​Cons
A downfall of this product is that it can be too fragile.
Also, it can be too large for other flashlights.
2. M&A BD 2 Pack with Battery Organizers IMREN 3000mAh 20A Flat Top Battery
There are two units included in each quantity ordered. It means qty: 1= 2 units. With this product, you need to charge it fully with the right "battery charger" before using it for the first time.
Keep in mind you need to avoid using a USB charging plug/adapter to charge this product via your electronic device. This unit doesn't include a button top. Therefore, you need to use the flat top type unit in your device.
If you offer a normal capacity of 3000mAh. It has the dimension of 18.30mm (Max) x 65.20mm (Max). If you purchase it, you will get a plastic storage case and two M&A BD IMREN Gold Series 3000mAh rechargeable flat top high drain cell.
3. NITECORE NL1835HP 3500mAH 8A+ Lithium-Ion Rechargeable Battery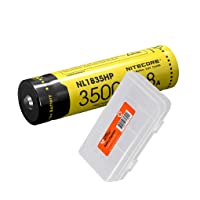 This battery is known as a high performance 3500mAh rechargeable button-top battery. You can use it for high drain devices such as the EC23, MH23, MH25GTS, MH12GTS, and Concept 1 and HC33.
It is popular for its advanced safety features such as nickel-plated stainless steel protectors and a microporous barrier protecting internal components. The battery also features high-performance internal circuitry. This feature aims to prevent overcharge. Also, it can keep your device safe.
You can this unit in NITECORE flashlights which use 2x CR123A batteries. It can be used for a NITECORE flashlight that can use 2x CR123A batteries. However, it doesn't operate well in the LA12 model. It doesn't work for a NON-Flashlight device.
4. 10X BXE 18650 Battery 9800mAh Li-ion 3.7V Rechargeable Batteries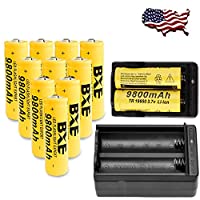 If you are looking for the best 18650 rechargeable battery, you can consider this item. It has a capacity of 9800mAh. It's made of Li-ion Battery. Moreover, this is also a great choice for the environment. The unit is popular for its high efficiency and reliability
You can use these batteries for Headlamp, flashlight, as well as electronic gadgets. Also, it can be used for battery appliances as emergency lighting, power tools, flashlights, and portable devices.
If you choose the product, you will receive 2 pcs Dual Smart Battery Charger along with 10 pcs 18650 Rechargeable Battery.
However, there are some points you need to avoid such as disposing of in fire or heat, mixing fresh batteries with used batteries, and damaging or disassembling.
5. EASTSHINE E35 3500mAh 10A 3.7V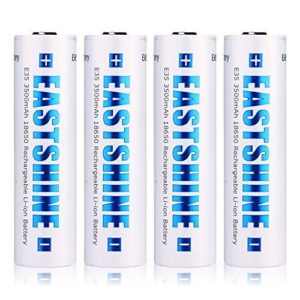 The Eastshine E35 is one of the best-selling 18650 batteries. One of the reasons it's popular is because it has a large capacity, 3500mAh, which is over 50% more than the normal 18650 cell. It's excellent for any high-drain device, like aaa flashlights and headlamps.
The Eastshine E35 18650s are also very safe batteries to use. It features four kinds of internal safety protection and three external safety protection.
The four internal safety protection are Thermal Overheat Protection, PTC Cathodal Block protection, Microporous Protection, and Pressure Relief Valve Protection.
For external protection, both ends of the battery have nickel-plated S.S protection to resist high impact. It also has injection-molded Protection circuit allows for high use security.
Lastly, it has a durable metallic film to prevent abrasions. With all these internal and external features, it's safe to say that this battery is as safe to use.
Pros​
Four sets of internal battery protection and three external battery protection.
Great value for the money.
It's 3500 mAh, which is quite high.
​Cons
It's slightly taller than regular 18650 batteries. So may not be compatible with some devices because of the size.
Non-Rechargeable vs. Rechargeable Batteries
Rechargeables are ideal for high performing lights and everyday carry/use lights, or for when regular use is intended. You can simply charge up the batteries for the next use and save up money in the long run.
On the other hand are primaries or non-rechargeables. Their advantage over rechargeables is that they have better storage performance.
Rechargeables self-discharge or lose power over time, which is why they are not ideal for emergencies. Primaries have very low self-discharge, making them perfect for storing in case of power outages.
There are three main kinds of rechargeable batteries: Ni-Cd, Ni-Mh, and Li-ion. 18650 is a type of rechargeable Li-ion and is probably the most common type for flashlights.
Why 18650 Batteries?​
Among all the types of batteries for flashlights, why should you go for 18650? Well, one of the main reasons is that 18650 are a kind of rechargeable Li-ion batteries and not just a single use battery.
They also have a higher voltage, making them as powerful as up to 4 AA batteries. It puts out 3.7 volts which are about three times watt-hour for the same capacity.
Another reason to go for 18650 batteries is that they are as long as 2 CR123A batteries. This makes them interchangeable. 18650s also have a high discharge and capacity rate, and an excellent size to capacity ratio.
Finally, compared to the other types of rechargeable batteries, 18650s, and other Li-ion batteries have a low self-discharge rate. This means it drains at a slower pace. 18650 batteries are also more reliable for long periods, making them ideal for using in emergencies.
Things To Consider When Choosing 18650 For Your Flashlight​
One thing to consider when selecting a rechargeable is its charging capacity, measured by mAh (milli-amp hours). The higher the number, the higher the battery capacity.
For instance, an 1800mAh battery can power an item 10X more than an 180mAh battery. It also takes longer to charge a higher power battery.
Another thing to consider is the self-discharge rate. This quality depends per manufacturer, but in general, the lower the rate, the better. It means that the battery drains power at a slower rate.
Consumers opt for brands that they can trust. Some of the first top brands are Sony and Panasonic. However, many others are catching up with their technology such as Nitecore, Samsung, Energizer, and more.
Tips To Extend 18650 Battery Life​
Do not wait to discharge your battery completely or near empty. When the battery is below 50%, you can already recharge it.
Avoid extreme temperatures, especially high temperatures. It will reduce the capacity rating and also shorten the lifespan of the battery.
Charge 18650s with a current below 1Amp. High-current charging may help reduce the charging time, but it can lead to overheating and explosion, and it can also shorten the lifespan.
Not all batteries are the same so make sure you read up on the manufacturer's usage and care instructions. Use the batteries within the manufacturer's specification.
Get a decent charger that has features like overcharging protection, reverse polarity protection, short circuit, and fire safety.
​Conclusion
There are many batteries in the market, but consumers already know the reliable brands and manufacturers.
The batteries on this list vary a lot in cost, but the quality is a tough match. However, the winner for me would have to be the Orbtronic Protected battery.
The E35 batteries work great on my flashlight, but it's also compatible with my other electronic devices.
They have great capacity, and it offers a lot of protection on the battery. The bundle is a great deal too. The charger works ideal for the batteries. However, if you will only need the batteries, you can get them separately too.​